Famous for her pasta parties, Noodlephant is shocked when the law-loving kangaroos decide noodles are only for them.
Noodlephant won't let this stand--Noodlephants can't survive on sticks and branches, after all. Determined to do something to push back against an unjust law, she and her friends invent a machine that transforms pens into penne, pillows into ravioli, and radiators into radiatori.With that, the pasta parties are back.
But that very night, the kangaroos come bounding through the door... ready to enforce their unjust laws. A zany tale full of pasta puns, friendship, and one Phantastic Noodler, Noodlephant, written by Jacob Kramer and illustrated by K-Fai Steele, explores a community's response to injustice.
Jacob Kramer grew up in Providence, RI and studied film-making and writing at Harvard. Like Noodlephant, he loves hunting for mushrooms, eating noodles, and organizing with friends in pursuit of justice. He lives in Somerville, MA, where he is an arts council Fellow. K-Fai Steele grew up in a house built in the 1700s with a printing press her father bought from a magician, and she's been writing and drawing books ever since. She's made drawings for Chibitronics, the Reykjavik Grapevine, MIT Media Lab, School Library Journal, Philly Weekly, the Creativity Labs at Indiana University, and more. K-Fai is the 2018 recipient of the Ezra Jack Keats/Kerlan Collection Memorial Fellowship.
Event date:
Saturday, February 23, 2019 - 3:00pm
Event address:
Porter Square Books
25 White St.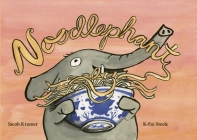 $18.95
ISBN: 9781592702664
Availability: Available at Warehouse
Published: Enchanted Lion Books - February 12th, 2019
---
Category: