There's a frost in the fridge--and it's hardened Pudding Pond and frozen Yogurt Falls. Agent Asparagus is on the case, and she begs Lady Pancake and Sir French Toast to join her superspy team. But when the enemy snatches Asparagus, Pancake and French Toast have only one dough man to turn to for help: the evil Baron von Waffle Will he help them save the fridge . . . or are they doomed to become frozen food?
Josh Funk is the author of Lady Pancake & Sir French Toast, followed by its sequel The Case of the Stinky Stench, Albie Newton, How to Code a Sandcastle, Lost in the Library, and more. He lives in Concord, MA.
Puny? Poky? Clumsy? Shy? A lighthearted look at the surprising traits that help some animals survive.
Written with a lively, playful voice, Pipsqueaks, Slowpokes, and Stinkers introduces young readers to a variety of "animal underdogs" and explains how characteristics that might seem like weaknesses are critical for finding food and staying safe in an eat-or-be-eaten world.
Award-winning author Melissa Stewart offers readers a humorous and informative nonfiction picture book with a gentle message of understanding and celebrating differences. Stephanie Laberis's bright, bold--and scientifically accurate--illustrations add to the fun.
Melissa Stewart is the award-winning author of more than 180 science books for children, including Can an Aardvark Bark?; No Monkeys, No Chocolate; and Feathers: Not Just for Flying. She is the co-author of Perfect Pairs: Using Fiction & Nonfiction Picture Books to Teach Life Science, K-2 and Perfect Pairs: Using Fiction & Nonfiction Picture Books to Teach Life Science, 3-5.
Melissa maintains the blog Celebrate Science and serves on the board of advisors for the Society of Children's Writers and Illustrators. She offers school visit programs in person or via Skype as well as programs for educators that focus on nonfiction writing techniques, using children's books to address curriculum standards, and creative ways to integrate science and language arts.
Event date:
Sunday, September 16, 2018 - 3:00pm
Event address:
Porter Square Books
25 White St.

$16.95
ISBN: 9781454928119
Availability: Available at Wholesaler
Published: Sterling Children's Books - September 25th, 2018
---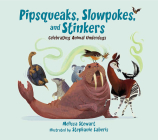 $16.95
ISBN: 9781561459360
Availability: Available at Wholesaler
Published: Peachtree Publishing Company - September 1st, 2018
---
Category: