Books are a chance to gather with friends, a refuge from the world, an answer to a problem that felt impossible, a connection to distant people, a lifetime of inspiration. They get to you after hundreds, even thousands of hours, of work by authors, editors, copy editors, and booksellers and they stay with you, in one form or another, for your whole life. We asked local authors, booksellers, and other book industry people to reflect on their experiences writing and publishing books, the importance of books in their lives, the role of independent bookstores in our society, and why books are so much more than just words on paper.
Below is Part 2 of a two-part It's Not Just a Book piece, written by M. T. Anderson.
Previously, I wrote about how my publisher, Candlewick Press, located right on the border of Cambridge and Somerville, is a presence in Davis and Porter Squares. Here's an entertaining story about someone from Candlewick you might have seen around town.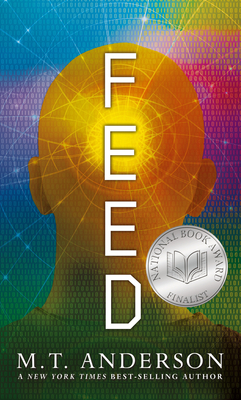 Many years ago, I published a satirical science fiction book called Feed, about a world in which we all have internet chips in our heads, and so are subject to a constant wash of idiotic advertising.
My editor, Liz Bicknell, asked me for ideas for the cover.
At one point in the book, the female protagonist, a girl named Violet, has her hair removed during neurosurgery, when she's having her hardware updated. I suggested that they use a bald head, maybe with some kind of plug at the base of the skull. They didn't go with the plug, but they plumped for the head.
I was thinking of a woman's head. But somehow, this got lost in the discussion.
One of Candlewick's designers – a male – had just shaved off his hair. I knew him a little, because at the time, he and I often used the same Porter Square gym. They asked this designer to model for the anonymous head on the front of Feed.
This made things awkward when we had a meeting in the design department to discuss the cover. Here we are, looking at a mock-up of the head, and this guy is sitting at a desk about five feet away, able to hear everything, as my editor, who is British – you can think of her as the Simon Cowell of children's books – exclaims, "God! His neck is so thick! Can't we use Photoshop to actually give him a real neck?" She picked up the mock-up and sighed in despair. "It looks like a giant thumb!
It's not every day someone says that about your head at work.
He was somewhat less delighted a couple of years later when a French Canadian wrote to Candlewick, claiming it was his head on the book, and demanding compensation. The legal team had to point out that they still had this particular head in the office.
I liked the cover so much, I thought it would be churlish to point out that it's actually a girl who loses her hair in the course of the book. My editor noticed it in the next stage of the galleys, however. "Tobin," she said to me, "you actually write that Titus, the main character, has hair."
"I know," I said. "It's the girl who loses her hair."
"Well, it's on the cover now," she said, "so you have to have him lose his hair somewhere."
The problem is, at this point, we couldn't change the pagination or lineation, so I had only one line of text to work with.
So, if you look in the penultimate chapter of the book, in a list of disasters and environmental degradations, squeezed in, there's a single sentence, which says something like, "Then I lost all my hair."
Added to accord with the scalp of a local.
Think back. Walking around Porter Square, maybe you've seen this now iconic skull. It walks among us, unknown.
M. T. Anderson is the author of Feed, winner of the Los Angeles Times Book Prize; the National Book Award-winning The Astonishing Life of Octavian Nothing, Traitor to the Nation, Volume I: The Pox Party (http://www.portersquarebooks.com/) and its sequel, The Kingdom on the Waves, both New York Times bestsellers and Michael L. Printz Honor Books; Symphony for the City of the Dead: Dmitri Shostakovich and the Siege of Leningrad; and many other books for children and young adults. His latest book is Landscape with Invisible Hand. He lives near Boston, Massachusetts.