Books are a chance to gather with friends, a refuge from the world, an answer to a problem that felt impossible, a connection to distant people, a lifetime of inspiration. They get to you after hundreds, even thousands of hours, of work by authors, editors, copy editors, and booksellers and they stay with you, in one form or another, for your whole life. We asked local authors, booksellers, and other book industry people to reflect on their experiences writing and publishing books, the importance of books in their lives, the role of independent bookstores in our society, and why books are so much more than just words on paper.
Below is a piece by Virginia Pye that explores one of the most influential books on her early writing career.
Back when I was in college, Black Tickets, Jayne Anne Phillips's early short story collection, with its hard-edged prose about hard-edged people, hit me hard. I'd read Hemingway's short stories in high school. Fitzgerald and Chekov stories, too. Isaac Babel and Isaac Bashevis Singer, and that one about the yellow wallpaper that everyone had to read. Unlike novels, short stories seemed the place to start for a young aspiring writer. They offered miniature worlds that tied up nicely in the end. But when I tried to write them, mine tended to sprawl. My pages became dense and overwritten as I said too much. Then I read Black Tickets and saw that when you use restraint you create meaning in a more powerful way. If you keep it minimal, you leave your reader aching for more.
Phillips's sentences were as tough and clean as Carver's, but she wrote about girls and young women, people like me at that same age. Her short story, "Home," felt like one I'd been trying to write for years. It lacked sentimentality and yet was full of nostalgia for childhood. It showed a struggle with growing up and a recognizable tension between mother and daughter. She said so much by saying so little. The short, declarative sentences left room for the reader to fill in the blanks with emotion. As I read and reread her stories, their meanings only became deeper.
I hadn't found another writer who spoke both to me and for me so well. In my second year of college, I carried Black Tickets with me everywhere. When I sat down to write a short story for my first-ever writing class, I had my copy splayed open on my desk, as if I could will her words, and her wisdom, over to my pages.
Phillips's style, Carver's style, Beattie's style stuck with me for years. You don't realize you're being influenced by your time until you experience the passage of time and you look back. I started writing in the 80s and my short stories still try to be minimal and understated. That's harder to do in a novel, because the urge to expand and embellish is so strong. But while over the years, I've experimented with different styles of writing in my novels and stories, Black Tickets has remained an unerring influence, reminding me that the complexities of the human heart are best illuminated with crisp, well-chosen words.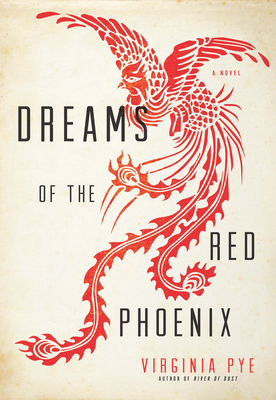 Virginia Pye is the author of two novels, Dreams of the Red Phoenix (2015) and River of Dust (2013). Her award-winning short stories and essays have appeared in The New York Times, Literary Hub, The Rumpus, Brain Child, The Tampa Review, The Baltimore Review, The North American Review, and elsewhere. She has taught writing at New York University and the University of Pennsylvania, in high schools, and in private workshop. After thirty-five years away, she is happy to have moved back to Cambridge with her husband, John Ravenal, the new director of deCordova Sculpture Park and Museum. Please visit her at: www.virginiapye.com and on Facebook and Twitter @VirginiaPye.