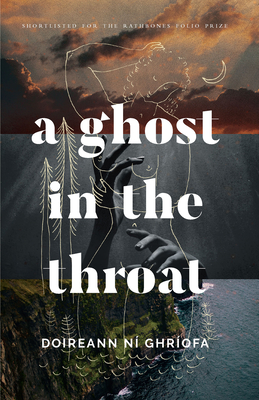 A woman rushes to the side of her murdered husband and drinks his blood by the handful. Goddamn, what an image, right? The woman, Eibhlin Dubh Ni Chonaill later composes "The Keen for Art O Laoghaire," a major work of Gaelic literature that is still taught in schools in Ireland today. Despite the importance of Eibhlin's work, the woman herself is all but unknown in Ireland, her life reduced to a footnote in the biography of a male relative. In trying to discover and tell the story of this unjustly forgotten woman, poet and essayist Doireann Ni Ghriofa digs into the flesh of motherhood, womanhood, history, language, and poetry. Part genealogy, part book-length translator's introduction, part seance, A Ghost in the Throat is a truly astonishing achievement. (Check out Nina MacLaughlin's review in the New York Times)
DOIREANN NÍ GHRÍOFA is a bilingual writer whose books explore birth, death, desire, and domesticity. Doireann's awards include a Lannan Literary Fellowship (USA, 2018), a Seamus Heaney Fellowship (Queen's University, 2018), the Ostana Prize (Italy, 2018), and the Rooney Prize for Irish Literature (2016), among others. She is a member of Aosdána and this is her prose debut.
Dorieann was kind enough to answer some questions.
Most readers in America have never heard of "The Keen of Art O Laoghaire." (I certainly hadn't.) Can you describe its significance in Irish literature and culture for us?
"Caoineadh Airt Uí Laoghaire" is an Irish lament-poem composed in the 18th century by a young, pregnant mother called Eibhlín Dubh Ní Chonaill. When her husband was murdered, she found his body, fell to her knees and drank handfuls of his blood, then threw her head back and howled. Her howl soon became words, and those words became a caoineadh, an ancient form of Irish language verse traditionally recited by women over the dead. Centuries later, Eibhlín Dubh's poem is an important element of our literary canon, a remarkably rare feat for a work of oral literature, particularly one of female authorship. Here in Ireland, it is often translated, often studied, often adapted for screen and stage – it's a measure of the potency of the poem that it rewards such repeated engagement. Given that the poem itself is so acclaimed here, I found it vexing that so little is known about its author, Eibhlín Dubh. For example, her burial place was never documented. The more I read the poem, the more my curiosity about her grew. Who was she? Would it be possible for someone like me – neither a scholar nor a historian – to learn more about her life?
Often, the mechanisms that silenced such lives in the first place remain intact. In studying how they silenced past lives, we see how they continue to do so in the present.
What do we gain when we bring out, as much as possible, the historic lives of traditionally overlooked people and identities?
There is a power in attending to lives that were once deemed unworthy of documentation. To seek out such lives, to research and recount them can prove illuminating, not only in terms of how it deepens our understandings of the past – it also changes our understandings of the present. Often, the mechanisms that silenced such lives in the first place remain intact. In studying how they silenced past lives, we see how they continue to do so in the present. To embark on such an effort is to learn, not only about one's subject(s), but about the multiplicity of injustices, and the continued silencing that persists.
...what change occurs when a book of oral literature is lifted from a dusty shelf, to be read aloud? It comes to life.
What is the biggest difference between the original Gaelic version and the various English versions? Is there something specific you think past translators have usually failed to convey?
Certainly there are those who have claimed that their translations are unique in one way or another, but to tell you the truth, I'm suspicious of such boasts. Each of the many, many translations of this poem (mine included) have one thing in common – Eibhlín Dubh's voice is absent from all of them. Even in the strongest of the translations, her voice as rendered in English is merely a feeble shadow. When the reader returns to the Irish version and speaks it aloud, however, her voice surges to life once more. As such, it's vital that translations are published in dual-language format, to enable the true voice of the poem to haunt its many flimsy doubles. (Click here to hear a reading of the poem in Gaelic. The poem itself starts at about the 3:30 mark.)
"The Keen of Art O Laoghaire" is part of an oral tradition. What changes when a piece that was intended for performance is fixed in printed text?
Allow me the liberty of flipping this question around: what change occurs when a book of oral literature is lifted from a dusty shelf, to be read aloud? It comes to life. Returned to the body, to the breath and to the voice, it is transformed in an act of literary CPR. If this is the case, does a move in the opposite direction signal a sort of death for a work of the oral tradition? I think not. The publication of works of traditionally oral literature allows for their dispersal to new audiences, ensuring their survival, perhaps luring new readers to return them to oral performance.
The structure of the book feels very unique. Did you always have this kind of project in mind or did this evolve out of other works?
A Ghost in the Throat is my first book of prose, and it taught me how to write it with a kind of force of its own, a quiet insistence. I learned so much from this book, and from how it grew.
Are there any places where you feel like your translation of the poem diverges from the original text? Do you feel any sort of authorship over your translation?
In translating this poem, I felt a great sense of fidelity to Eibhlín Dubh. I wasn't interested in indulging any dramatic divergence from the original poem – there was no need to do so, because it's an extraordinary poem and any embellishment on my part would have been an interference.
You are also a poet. Is there a relationship between your own poetry and your work as a translator? Does one mode of creation inform the other?
It certainly does. The melody of a poem can work its way into the psyche of a poet, making itself felt in subsequent poems in the strangest of ways, ways that are sometimes only visible in retrospect.
What are you reading right now?
I've just begun (and am thoroughly enjoying) Lauren Elkin's No. 91/92 (Semiotext(e)), a book composed on a phone during the author's daily commutes between her flat in the 5th Arrondissement of Paris and her work in the 7th. The bus's windows look outward on the city – kaleidoscopic, vivid, ever-transforming – while catching reflections of the author too, her thoughts, fascinations and frustrations. It's wonderful so far. I must also mention a book I read before it, Lindsey Drager's The Archive of Alternate Endings, which I found astonishing in how nimbly it leapt and side-stepped between various pasts. I immediately ordered all her other books, and I'm looking forward to diving into them very soon!