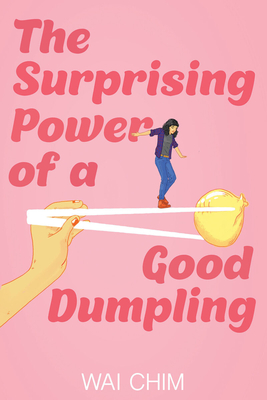 What have I missed? It's been ages since I've said hello, so hello to you all, I hope you're doing well. I'm here today to introduce you to Porter Square Books' Staff Pick of the Year 2021 for Young Readers which is:
The Surprising Power of a Good Dumpling
by Wai Chim, nominated by yours truly! I am so thrilled that so many of you voted for
Dumpling
. If you've been with our

Shelf

Stable

since its early days, some of you have already met me, but for those who haven't yet - I'm a bookseller at this magical shop called PSB (or a second home to some of you), my name is Sinny, I am heavily food motivated, and on my TBR (to-be-read) list lately are a lot of Asian and Asian American authors. I'm Cambodian American and these books have been missing from my childhood, so I'm making up for the lost time.
Dumpling
is a story about growing pains, complicated family obligations, the complex experience for Asian families living in western countries, and most heart-wrenchingly, mental illness. The subject of food is what drew me towards the book and the topic of mental illness is what stayed with me afterward. Like Anna Chiu, the protagonist, I went through similar events with my own mother's mental health whilst I was in high school and never really found a way to look back on that time unscathed. Through
Dumpling
and by extension, through Anna, I'm able to kind of put myself aside and read this beautiful story without guilt or expectation of what someone "should" do or how someone "should" react during a mental health crisis. Rory was also a welcome distraction and a delight Anna gives herself a break from family obligations and the pressures of school.
The highlight of the story is, of course, the dumplings! Anna's father's restaurant is in the backdrop and many important events happen in and around dumplings. 2020 was such a rough year and
Dumpling
was a book that I needed to get through it.
Dumpling
helped me face the guilt I've been carrying with me all these years and helped me understand that, as a high schooler (or at any age), it is not your fault that your mother's mental health started deteriorating. I hope you give
Dumpling
a chance and when you do, I'd love to hear your thoughts on it. Now, my next mission is to make homemade dumplings for PSB since my pick won! Happy reading and happy dumpling making, and/or order dumplings for takeout.
--Yours in dumplings, Sinny