Congratulations to 2021 PSB Staff Pick of the Year for Adults,
Where the Wild Ladies Are
! Here is Marika with some more thoughts on the book.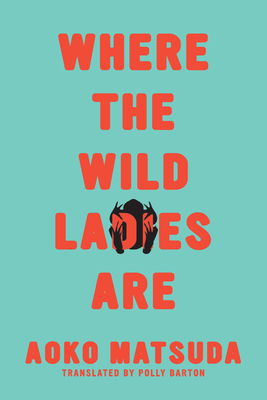 In April of last year, I was casting about for a book to read. It was still early days of USA Covid, and I needed something to click. In a virtual publisher event, I hear about
Where the Wild Ladies Are
. "Based on Japanese ghost stories," and "translated from the Japanese," was all I needed to hear to download the book. I've been trying to read more translated literature, to experience different voices, views, and types of storytelling. Written by a translator and then translated by someone else, this book intrigued me.* It was also exactly a year since I'd returned from a trip to Japan, and I was spending my lunches walking the eerily empty streets of my neighborhood; the book felt correct for the time.
And it was. Enthralling, smart, and relatable, the stories in
Where the Wild Ladies Are
offer commentary on society, gender, and power. They're relevant and striking, with haunting imagery: a woman who harnesses the power of the hair that grows in dark and thick all over her body; a person who falls in love with a ghost; a man who is outsmarted by two strange lantern-pushing saleswomen, one stunningly beautiful; the internal monologue of a tree, whose roots you can see, twining through your head; a tiny knick-knack shop hidden near the train tracks. Part of my enjoyment was having these images spring from the memories I had of my travels, but you don't need to have visited Japan to be haunted by these stories, as was evident when a good half of the staff devoured the book as well and we had to discuss who would get to staff pick the title when it was released.
Though based on traditional Japanese ghost tales, familiarity with these tales isn't necessary to make it an engaging read. And, if you're thinking "I don't do short stories," well, a thin thread connects each chapter, growing gradually stronger until the end, making this a superb choice for those novel-enthusiasts looking to try more short stories.
Matsuda's realistically flawed characters are relatable- even when they're trees, her imagery haunting, and her stories connect traditional folklore with contemporary circumstances.
Where the Wild Ladies Are
is a quiet masterpiece, and now that I've written this, I'm ready to return to it and reread!
*More on this hopefully to come!