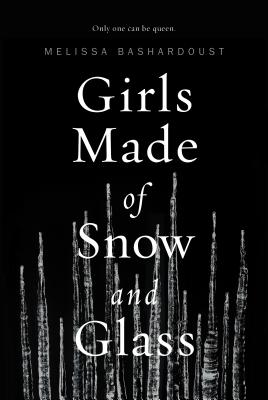 Sixteen-year-old Mina's mother is dead and her father--a magician who cut out her heart and replaced it with one made of glass--is cruel. When the two move to Whitespring Castle, Mina plans her escape in the arms of the king. She does not love him, but he is good and kind.
Fifteen-year-old Lynet looks just like her dead mother and her father--a king who hired a magician to craft her out of snow--is somber and distant. When her father designates Lynet queen of the southern territories, Lynet must contend with the growing animosity of her stepmother Mina, and the secrets she uncovers about both of their pasts.
This book hums with beautiful prose from the first page, and the story that unfolds is just as engrossing. It's a Snow White retelling that does so much more than retread the steps of the familiar tale. Lynet and Mina are both intelligent and ambitious, but forced to work within the confines of a system controlled primarily by men. There are romances (thoughtfully done!), breathtaking magic, and great adventure, but what makes this book exceptional is the exploration of Lynet and Mina's relationship and their understanding of each other in an adverse world. Their relationship is deeply antagonistic but threaded with recognition of each other's struggles, and I wanted both of them to get everything life had previously withheld.
Girls Made of Snow and Glass is a masterfully told fairy tale that subverts the original at every turn, creating something fresh and completely satisfying. This read will not disappoint.