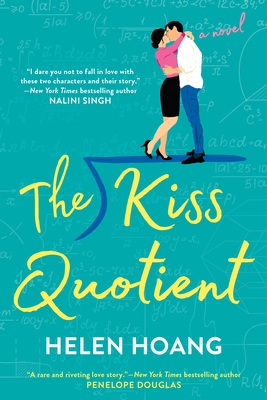 A smart, sexy, adorable romance about an autistic woman who decides to get "good at sex" by hiring a male escort! This one convinced me to give the romance genre another try--so if you're not a romance fan, maybe it'll convince you too! (Come in and ask me if you want to hear which romance books I read next!)
The Kiss Quotient is a heartwarming and refreshing debut novel that proves one thing: there's not enough data in the world to predict what will make your heart tick.
Stella Lane thinks math is the only thing that unites the universe. She comes up with algorithms to predict customer purchases--a job that has given her more money than she knows what to do with, and way less experience in the dating department than the average thirty-year-old.
It doesn't help that Stella has Asperger's and French kissing reminds her of a shark getting its teeth cleaned by pilot fish. When her parents start pressuring her to get engaged and remind her of her age, a series of failed and disappointing dates lead her to conclude that she needs help to get "good at sex" to find a husband. Her solution: she needs lots of practice--with a professional. So she hires escort Michael Phan. The Vietnamese and Swedish stunner can't afford to turn down Stella's offer, and agrees to help her check off all the boxes on her lesson plan--from foreplay to more-than-missionary position. Michael has problems of his own, and even though he hates his job, something draws him to Stella in a way he's never felt before.
Before long, Stella not only learns to appreciate his kisses, but crave all of the other things he's making her feel. Their no-nonsense partnership starts making a strange kind of sense. And the pattern that emerges will convince Stella that love is the best kind of logic...
This is one of the first romance books I have really enjoyed and now that I've read it, I can't stop recommending it. I had to staff pick it because I think it's so fantastic. I think that the diversity and the treatment of autism in the book are well done--Hoang herself has autism so it's an authentic portrayal that is often lacking in fiction--and I enjoyed this unique and underrepresented perspective. I thought the book was funny, romantic, swoon-worthy, and un-put-downable. I literally sat in my car in my driveway listening to it because I couldn't stop and you won't be able to stop reading it earlier.
It should be the book of the year because it's funny, sexy, and involves real, authentic representation that isn't always shown in fiction. As a romance that truly captured this non-romance reader, it deserves to be the book of the year for drawing someone outside into the romance genre and convincing them to stay.
April