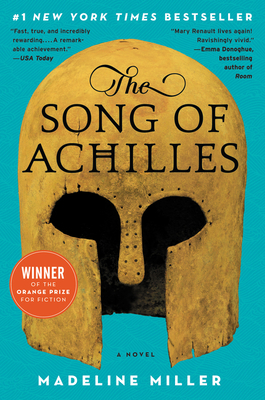 I am perpetually late to the book party.
Due to a long stretch in my life during which I had no idea how to properly live, I forgot that books were fun and reading could be pleasurable and a thing I enjoyed doing. I blame it on high school.
As a result, I missed a bunch of amazing books that came out in this barren stretch. And when I read and love these amazing missed books in 2016, I try to recommend them aggressively to everyone, only to realize that everyone already read and loved them.
This year, I discovered Song of Achilles by Madeline Miller, a book everyone read when it first came out in 2011 while I was ignoring books. And even in 2016 when I picked it up, it was a bit on a whim. I had heard people liked it. I had finished my book on the train in to my shift at Porter and it was just sitting there and I needed something. I still can't really say why I picked this one up. Call it fate.
I read the entire book in a foggy 24 hours, perpetually misty and curling into a tighter and tighter fetal position as the book went on.
It's a testament to the power of Madeline Miller's epic, romantic novel that I knew from the beginning how the book ends. I know the Iliad. I know who dies. And yet, instead of feeling predictable or familiar, the story and its accompanying emotions in Song of Achilles felt so raw and fresh. They mount as you barrel toward the inevitable ending, watching Patroclus and Achilles, knowing what they're about to do and wanting to shout at them not to do it, but they still do it. It's slow torture wrapped in gorgeous prose.
A familiar story, infused with emotion and longing and charting the complicated and passionate relationship of two people who matter deeply to each other in many different ways.
Lush, lovely, and incredibly moving. You don't need your heart, anyway.
--Mackenzie