Dear readers of all potential timelines,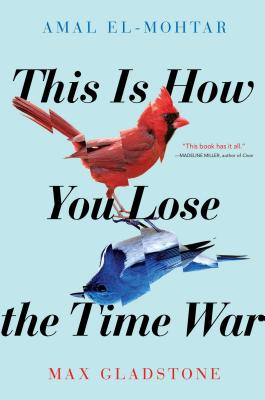 I'm here to tell you why you should vote for This is How You Lose the Time War by Amal El-Mohtar and Max Gladstone. This beautiful book is like poetry that tricks you into thinking it's prose. We have two heroes, Red and Blue, both ruthless agents for their respective timelines. Two post-human women that haven't quite left their humanity behind no matter how different the future has made them. Blue's hunger. The way Red doesn't quite fit in with the others in her high tech future. As they begin to learn about each other and their respective timelines, you'll start to fall in love just as they do.
But that's not the only reason you should vote for This is How You Lose the Time War.
As any good story about time travel should, this shows the way small changes can cause ripples through time. For instance, an individual comes into Porter Square Books and sees that This is How You Lose the Time War is 20% off and decides to buy it. That individual leaves it in a cafe when they've finished reading it, where another person picks it up, finds the story so good that they tell the story to their child as a bedtime tale. That child grows up to run for president and uses their power to usher in an age of environmental reform and social justice.
Do you want to risk that future? Do you want the dark future that comes if This is How You Lose the Time War loses? Better vote for it just to be sure!
Or vote for it because it's an epistolary time traveling lesbian spy book that's unlike anything else you've ever read. Either way.
Love,
Shana