Remember that week where we all liked sea shanties? If you dug them, you may want to give Richard Thompson a try.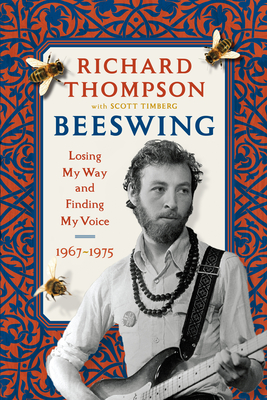 Richard Thompson is a folk and occasional rock artist who was a driving force behind one of the seminal bands of the British folk revival of the 1960s and 70s. In the mid-70s, he performed in a duo with his then-wife Linda Thompson. While his work with Fairport Convention is more to my taste, outlets like Rolling Stone and The Independent have cited Linda and Richard Thompsons' albums I Want to See the Bright Lights Tonight (1974) and Hokey Pokey (1975) as foundational to British folk rock, so who am I to argue? Thompson has been a solo artist since the early 1980s. He is a gifted guitarist and songwriter, and his voice is deep and uniquely accented, an Alan Rickman of the folk revival.
The British folk revival was roughly concurrent with the American one spearheaded by Woody Guthrie, but popularized in earnest by Bob Dylan; Joan Baez; Peter, Paul, and Mary; and so on. The American folk movement was largely based in African American folk music traditions and protest songs, a looking back to the music that birthed rock and roll. British folk music has a deeper heritage, so the British folk revival mined the centuries of British folk music, reinventing and adding rock sensibilities to these time-honored songs and producing new material in the same vein. With his songwriting for Fairport Convention, Thompson ushered in the British folk revival.
In his new memoir written with Scott Timberg, Beeswing, Thompson recounts the experience of spearheading that folk revival and then leaving Fairport Convention as the band was hitting its peak to perform with Linda and retreat from society to become a Muslim ascetic. Richard Thompson is a fixture of this moment in music (but don't forget Linda), he is an especially good gateway to the artists that were his contemporaries and the many others who were inspired by his work. As such, Richard Thompson is pretty perfect place to start The Winter of Mixed Reads, a blog and playlist series where I will highlight a book by or about a musician or musicianship and make a playlist to introduce that artist's music and explore artists doing similar things. I uh, was already pretty into sea shanties before TikTok discovered sea shanties, and Richard Thompson is a particularly good introduction to one of my (potentially niche, sorry) favorite areas of musical interest. Included on this list are of course Fairport Convention and their fellows, Steeleye Span, Shirley Collins, Van Morrison, and John Martyn, and some artists who followed in their stead like Billy Bragg and Offa Rex. (Do me the favor and check out Offa Rex.)
Enjoy! And for the record, it's "bee's wing" and not "bee swing"—though I do want a song about a bee swing. Sounds fun.
In The Winter of Mixed Reads, libromancer Meaghan highlights works of musical nonfiction (and many other works besides) and shares complementary playlists.
Click here to listen to the playlist!